Posted On Wednesday, October 29, 2008 at at 5:20 PM by Woodside Acres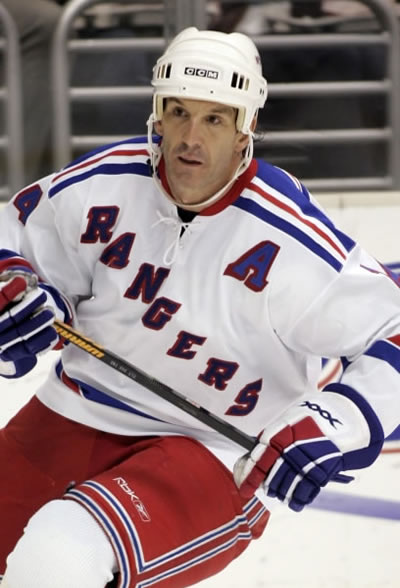 According to the NY Post, Brendan Shanahan has grown tired of waiting and will leave NY in search for another team.

"I've told Rick [Curran] that I can no longer wait and that it's time to move on," Shanahan, referring to his agent, told The Post this afternoon. "Until now, Rick has been under instructions to tell inquiring teams that my focus was on re-signing with the Rangers

New York Rangers

, and that I was not accepting any other offers."
While it is a bit emotional to think of all that "Shanny" did as a Ranger to endear himself in NYC in only two short seasons, this writing was on the wall.
"I have no regrets. Too many good things happened to me in my two years here. I met a lot of very good people. And I do think that I was an important and constructive influence, so it's disappointing not to be able to be here and help finish the job."
To be honest, Shanahan would not have been able to keep up with the pace that the Rangers currently are playing and the likes of Petr Prucha and Nigel Dawes are playing decent enough that they should NOT be sitting in place of a 40 year old.
Where now for Shanny?
"I honestly don't know what to expect as a free agent right now; for me, this is my July 1," Shanahan said. "Physically I feel great. I don't think it will take very long for me to be back, but I don't know where and when.
I am going to put my money on four likely destinations: Detroit, Montreal, New Jersey, and St. Louis. Of those, I can only speculate that Montreal and Detroit are truly the most viable options.
Also consider the Sundin implications about how all of this played out.
Sundin comes out and says he is going on an intensive two week training stint in preparation for a return in December. Patrick Rissmiller was waived, Curran said that had nothing to do with Shanahan. Today, Lauri Korpikoski was sent down to Hartford and Shanahan announces he will be done with the Rangers.
Is the timing not interesting? Granted, it is all speculative and more of the pundit in me than the analyst. In all liklihood, Korpikoski was sent down so that he could play as opposed to sitting on a bench. Rissmiller has shown little and waiving him could give him an opportunity to play and the Rangers an opportunity to bring in a defenseman. And Shanahan simply couldn't wait any longer and GM Sather didn't see him fitting this squad.
Nonetheless, it's fun.
Posted On Monday, October 27, 2008 at at 6:24 PM by Woodside Acres
A tad behind here at Pucks, but a lot of exciting things are on the way. A few tidbits to consider as I sit in traffic heading into Nassau County:

1. Peanut butter Prucha time: The fiesty winger seems to have at least temporarily secured a spot on the third line. I expect a lot of punch tonight from this line as they are easily the hardest working trio on the team.
2. Dreary Drury: The hard working captain has suffered a plethora of bad breaks, but tonight his luck will change. With the potential for a letdown tonight, it is the perfect stage for Captain Clutch to come through.
3. Speaking of letdown: An undermanned and struggling Islanders team will prove to be a stronger opponent than most are giving them credit for. The Rangers must come out hard early on and put this inexperienced group back to Bridgeport before they can get comfortable.

More to come after the game . . .
Posted On Tuesday, October 21, 2008 at at 2:14 PM by Woodside Acres
As per TSN, Patrick Rissmiller has been placed on waivers. The 29 year old former San Jose Shark appeared in two games this season, most recently was last night when he skated along with Chris Drury and Markus Naslund.

This saves the Rangers approximately $1 million and perhaps paves the way for another defenseman or it may involve Brendan Shanahan and Mats Sundin. Suffice to say this will most likely not be enough to sign either, but it may be a step in that direction.

I still put my money that this will prompt another defenseman on the Rangers roster.
Posted On at at 12:19 PM by Woodside Acres
It continues to amaze me how the Rangers just cannot get over the hump against the Western Conference. Granted, they have taken on two very difficult teams in Dallas and Detroit, but it seems that the Rangers just can't put together a decent 60 minutes.

Dating back to last season's woes, it has been shown that the Western Conference is the deeper and arguably stronger conference. So if the Rangers are a top team in the East, are they merely only an average team in the West?

Perhaps this lacks equal comparison, but which Western Conference contenders do the Rangers really matchup well against? We have to figure that Detroit and Dallas are comparable, but in the end the Rangers lost to both. Minnesota and Edmonton should match up well and I would venture to say that both St. Louis and Edmonton are currently playing a bit above expectations.

In essence, if the Rangers aren't able to defeat Dallas and Detroit, two of the best teams in the West, are they really Stanley Cup contenders? I say nay.

It is very easy when doing pre-season predictions and analysis to call teams contenders. Why? Because nearly everyone matches them up against their own conference. However, Stanley Cups are won against the other conference!

What may seem trivial at this early stage of the game, may actually be a good indication of where the Rangers stand and what needs to improve to get over that threshold.

Don't get me wrong, the Rangers have had an outstanding start, but it seems nearly like a blessing in disguise that before the Rangers get too far into this season, there should probably be some tweaking in order to better compete with the left conference.

Friday, the Rangers are in Columbus in what should be a confidence builder against the West.

More to come...
Posted On Wednesday, October 15, 2008 at at 9:32 AM by Woodside Acres
While Ranger fans and the hockey world mourn the loss of an upcoming star, there is a lot to take solace in on Broadway. The Rangers, off to a 5 - 0 start, have the opportunity tonight to win an unprecedented and club-record sixth game to start the season.

What can we attribute to this?

First, we have the power play. Yes, Monday night's 5-on-3 was atrocious, but other than that the Rangers are getting shots through and have produced on the man advantage. A distinct difference from last season. An added bonus is that many of those goals have been dirty goals, from hard work in front of the net. Again, a mentality foreign to this club the past three seasons.

On the flip side of the special teams, the penalty killing has been perfect. Many thought this could suffer with the likes of Brendan Shanahan and Martin Straka not in the lineup, but everyone has contributed strongly and kept the opposition predominantly to the outside.

Now, I won't bore you with what you have already heard. You know that Brandon Dubinsky, Aaron Voros and Nik Zherdev have been outstanding. You know that the first and third line have yet to really click on U.S. soil, and you know that the fourth line has been better than last year. As for the goalies? They speak for themselves.

So where are the Rangers weaknesses? Well, they are more obvious than the media is currently examining given the winning streak. The most glaring has to be the defense down low in their own zone. Certain players, such as Paul Mara and Dmitri Kalinin, have looked slow in their own zone and unable to really compete on the boards.

This has led the Rangers to being trapped on multiple occasions only to have a forward, an icing, or a goalie bail them out. Granted, these defensive pairings are still aclimating to each other, but it's clear that another strong bottom-pairing defenseman could be a huge help.

Now consider the problems on the first and third lines. It is not a question of talent, but rather chemistry and combination. Head Coach Tom Renney just hasn't fit the pieces into the puzzle. In time, the Drury-Gomez-Naslund line will succeed. The third line will need consistent personnel in order to do the same.

Ryan Callahan has established himself on the line. Then amidst the craziness the Rangers will have to decide between Petr Prucha, Nigel Dawes, Patrick Rissmiller, Dan Fritsche, and Lauri Korpikoski. Who belongs where? Nobody really knows, but the Rangers need to figure it out sooner rather than later. Personally, I think Prucha needs to be in the lineup.

Some stuff to ponder as well as a piece over at The Hockey News.

More to come...
Posted On Wednesday, October 8, 2008 at at 5:04 PM by Woodside Acres
No word yet on the submitted roster the Rangers had to give to the NHL by 3 p.m. today. More Shanahan rumblings persisted today with the general consensus being more in the way of Shanahan signing rather than not.

Personally, while I am a Shanny fan, I am not a Shanny fan on this youthful and evidently quick-paced team.

I will keep on it through the night trying to find some answers, but I wouldn't expect too much until the early morning.

Also, check over at NYR Nation tonight for the first "A Week Ahead" of the 2008 - '09 season.

More to come...
Posted On Tuesday, October 7, 2008 at at 8:30 AM by Woodside Acres
The Rangers roster, as it stands right now, consists of the following:
Drury - Gomez - Naslund
Zherdev - Dubinsky - Dawes
Prucha - Korpikoski - Callahan
Voros - Betts - Orr
Alternates: Rissmiller, Fritsche, Sjostrom

Redden - Rozsival
Kalinin - Girardi
Staal - Mara

Before delving into what we like and don't like about the lineup, let's first look at the numbers. The Rangers have an excess of forwards, particularly third and fourth line forwards. Does it really make sense to carry only six defensemen and such an abundance of forwards? No. So, as Tom Renney mentioned, changes will be made before Friday.

What could those changes mean? Well, rumormongers, there are still rumblings of both Mats Sundin and Brendan Shanahan out there. As I understand it, it is more of a one or the other, but not both scenario.

Take that for what you will.

I think that in the next 48 hours you will see much of this put to rest as Shanahan is going to want to be on a roster before opening night and the Rangers are going to want Sundin in uniform for Friday. Consider this:

Could Dubinsky merely be playing on that line in preparation for Sundin? For example, Drury is adapting to wing because the Rangers know that another center is coming in. It isn't necessary to have Korpikoski at center, particularly after the poor faceoff performance on Sunday. So your lines would be:

Naslund - Sundin - Zherdev
Drury - Gomez - Dawes
Prucha - Dubinsky - Callahan

and however you want to assort the remaining forwards on the fourth line. Also figure that at least one of the bottom six or so players will be moved before Sundin can be signed.

Is it a stretch? Not really, but I would still consider it unlikely. What about Shanny?

I have had an abundance of emails, questions, text messages, etc. asking if I knew anything about Shanahan. And I do not know much more than what the media has said. Sam Weinman at the Journal News put it into fine perspective last night. Part of this is Shanahan's unwillingness to accept that the Rangers may not want him and part is that Glen Sather is leading on more than he really wants him.

Will it happen? Only if Sundin doesn't. My guess is he goes back to Detroit, but wouldn't be surprised to see him in New Jersey.

Also consider that the Rangers will most likely bring back a sixth or seventh defenseman in a trade (or sign one) before Friday. Heck, Marek Malik is still around. Or Bryan Berard. Or Sandis Ozolinsh.

Anyone? Anyone?
Posted On Friday, October 3, 2008 at at 9:18 AM by Woodside Acres

UPDATE: According to both Weinman and Zip, Prucha was one of the last people off the ice today and angrily rejected an interview request stating he would not be in the lineup tomorrow night. This would mean that the line of Fritsche - Rissmiller - Prucha will most likely be saved for the second game. While I am an adamant fan of Tom Renney, I have to say I am severly disappointed in this decision. He, and the entire Ranger organization, praised Prucha for being in the best shape of anyone at camp and working the hardest. Did he struggle a bit at times during the preseason? Yes, but not because of lack of effort, which shown with the likes of Dawes and Sjostrom. So you reward hardwork with a seat on the bench during a major event hosted by the player's country? Classless. The Rangers and Renney are the classiest bunch in the league, but this move (if it holds up) is classless. Perhaps, Prucha is being kept safe for a trade upon his return, but you have to ask yourself, "what more could Petr do for this organization to get some respect?" Poor choice.

After being busier than expected with some writing opportunities, I am finally back to close out the preseason and preview what fans should expect in 08' - 09' beginning tomorrow in Prague.

The final cuts have been made as both Brian Fahey and Corey Potter were assigned this morning to Hartford.

That leaves the Rangers with 15 forwards and 6 defensemen, something that will not last.

Later I will have roster analysis over at The Hockey News.

According to Zip over at Newsday, here were the most recent line combinations:

Naslund-Gomez-Drury
Dawes - Dubinsky - Zherdev
Sjostrom - Korpikoski - Callahan
Fritsche - Rissmiller - Prucha
Voros - Betts - Orr

Redden - Rozsival
Staal - Mara
Kalinin - Girardi

I have to admit I am a bit surprised about how this lineup has transpired. I understand the first two pairings, despite the fact that I feel Dawes has underachieved noticeably.

It would also appear that the Rissmiller line will sit in favor of the Voros - Betts - Orr combo. This is disappointing. Petr Prucha, a native Czech and the hardest working Ranger, deserves to play in these games. Perhaps he will, but there is a growing consensus that he won't.

Also, don't be surprised if those bottom two lines alternate nights.

Addressing the defense is even curiouser. Redden and Rozsival should be an offensive dynamo, but will it hamper one's game? Both can't be offensive. Think Tom Poti and Brian Leetch. (Not comparing skill levels, but comparing styles)

Then we have Paul Mara with Marc Staal. Not a bad combination, but again, Staal is trying to grow his offensive talents while Mara is more of an offensive player than a stay-at-home one. Who relinquishes the reigns?

Finally, we come to Dmitri Kalinin and Dan Girardi. Two defensive defensemen on the same pairing. What is the thinking?

It will be interesting to see if any of this sticks tomorrow and whether the Rangers have found themselves in the dreaded "lack of cohesion" situation.

(Photo from Wikipedia)